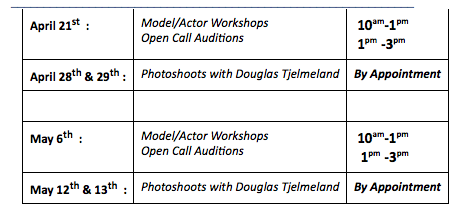 WHAT YOU NEED TO KNOW:
· WORKSHOPS:
· Cost is $50.00 – pay at the front desk –
–Email/Call/Text me to sign up for the Workshop so I can get you on the list! 412-973-7812
· PHOTOSHOOTS with Douglas Tjelmeland!
· We have fun at our Shoots & Douglas gets beautiful pictures of the Talent! We run our shoots like real print jobs
so you know what to expect on a job booking! https://youtu.be/tanTsLgm_3w
· We provide this service to our Talent so they can work with a top agency Photographer to update their Headshots/Comp Cards & Portfolio Pictures.
· This enables the Talent to have the correct Presentation Materials for this highly competitive Industry. This also helps me as an agent to submit
top quality consistent images of my Talent to my Clients. *Call/text/email for the details & price packages of our photo shoots*
Go to Douglas Tjelmeland's website to see his great work both behind & in front of the Camera!
Read about his extensive modeling & acting career & read his testimonials: http://www.dtpictures.com
Contact Douglas to set up your photo shoot: 412-855-1231 [email protected]
· AUDITIONS / CASTING CALLS
· are always FREE – Show up between 1pm-3:30pm!
· *IF NOT ABLE TO ATTEND THE AUDITIONS Please EMAIL Me a Headshot/Resume – Reel/Link to any of your work on camera –
-or- send me a simple 20 sec. film clip of any the Commercials attached !
Stop in so we can get you on or your children on film for my clients consideration –
Watch this You Tube Video on Talent Auditions – – https://youtu.be/d_jn_TJSsu8
WE WILL BE WORKING on the RUNWAY & TV COMMERCIAL SCRIPTS ON-CAMERA at the WORKSHOP!
Let me know whatever day works best on your schedule! (TV Commercial Scripts are Enclosed!)
HOW TO PREPARE:
Recent Photos for Talent File – fill out the bio/stats form out & email back along with current pictures – snap shots – headshots/resume.
· What to Bring:
· Solid Colored Clothing – NO Logo's or Sports #'s –
NO White TENNIS SHOES –
Bring Dress Shoes in your bag for the Runway
· A snack or lunch, there will be no breaks to leave for lunch!
· PLEASE EMAIL me & Bring a non-returnable Picture
– Snap Shots are fine for 1st Auditions
– Bring Headshots & Resume – Portfolio – Comp Card
– or whatever you have to send or show the Client *NO PHOTOS WILL BE ACCEPTED VIA SOCIAL MEDIA*
WHERE?
– Agency Studio in Emsworth PA –
500 Huntington Ave., PGH., PA 15202
*note: look for punishers paint ball store signs*
MAP is ON the TB TALENT & CASTING FB Page – http://facebook.com/tbtalentcasting
MORE INFO: WATCH these Video Clips of the Runway Training that we will be working on at the Model/Actor Workshops !
https://youtu.be/TbTcFGDtLks – https://youtu.be/cUsVrKIcvwc – https://youtu.be/k01Tl3YHsTA
WATCH these Video Clip of the Acting Portion of the Model/Actor Workshops:
https://youtu.be/fBVLqf5Vb7k & https://youtu.be/_jPtUD8p1pE & https://youtu.be/92Hyo91xIaQ
*check my TB TALENT & CASTING – Facebook posts daily for CASTINGS & AGENCY NEWS
(I use both of my FB pages for Posting Agency Pictures & Castings.)
TB Talent & Casting FB page is The Agency Job Hotline!